Bluebird Moving Storage Boxes and Moving Supplies
Simplify Packing with Bluebird's Self Storage and Moving Merchandise
Even though moving, relocating, or renovating a space is an exciting time, packing your belongings can be quite a challenge. Moving and packing are fairly time-consuming, not to mention going out of your way to purchase packing supplies is just another thing to add to your to-do list.
If you want a one-stop-shop for moving and packing, Bluebird Self Storage is here to help! Every Bluebird facility carries a wide range of storage supplies and merchandise that eases your moving experience from start to finish.
Curious about what you need to help make a move easier? Explore our storage and moving merchandise below! Once you narrow down what you need, contact your local Bluebird facility to arrange storage supplies to pick up!
At Bluebird, we carry multiple size moving boxes that help streamline your move so that you can find the best storage solution for your belongings. Our moving boxes keep your items protected during your move and can store clothing, keepsakes, and anything in between. Simply select the sizes you need, and our team can reserve the appropriate amount of moving boxes on your behalf!
Our extra small boxes are ideal for storing small household items or personal keepsakes.
1.5 cube box (16x13x13) (15/bundle)
Perfect for small appliances and medium-sized items that have extra weight.
2.0 cube box (18x15x12) (15/bundle)
Great for packing up larger appliances, fine china, toys, and dishware.
3.0 cube box (18x18x16) (10/bundle)
Bulky items like books, photos, and pillows are ideal for our larger boxes.
4.0 cube box (18x18x21) (10/bundle)
Bedding, stereo speakers, and other tough-to-store items can be packed in our largest moving box.
6.0 cube box (18x18x27) (10/bundle)
Keeping your clothes organized and wrinkle-free is easy with our wardrobe boxes. The sturdy wardrobe bar can support several lightweight or bulky clothing items.
Size: 24 x 24 x 42"
Store your flat-screen TV with ease using our TV boxes. Available in multiple sizes.

Small: 38 x 8 x 26″
Medium: 46 x 8 x 30″
Large: 56 x 8 x 36″
Store documents, paperwork, and files with ease using our self storage file boxes.

Size: 15 x 12 x 10"
Protect mirrors from scratches or cracks using our strong mirror boxes.

Size: 37 x 4 x 26.5"
Small Mirror: 37" x 4" x 26.5"
Large Mirror: 42.5" x 3.95" x 36"
Paper, Bubble Wrap, and Packing Materials
If you need reliable material to help protect the integrity of your belongings, you can purchase packing paper and bubble wrap at every Bluebird facility! These materials line your moving box and protect fragile items from scratching or breaking during the move. If you need help determining what packing materials are best for your moving needs, just visit your local Bluebird facility, and a staff person will be happy to help! If you don't have time to stop by and visit, we're happy to help you over the phone.
Help protect any breakable items and line your moving boxes with our sturdy packing paper.

10 lbs worth of packing paper per package.
5lb packing paper (Not available in Alberta)
25lb packing paper
For additional protection, bubble wrap is ideal for packing up and protecting your china and other fragile items. Available in three different roll sizes.

Small: 3/16″ x 12″ x 30′
Medium: 3/16″ x 12″ x 100′
Large: 3/16″ x 24″ x 100′
If you need to secure doors, drawers, and other loose items during the move, our stretch wrap can keep these items from opening on your moving truck and within your unit.

Hand-Held Roll: 5″ x 1000′ x 80 gauge
Full Roll: 13″ x 1500′
Protect your belongings perfectly with foam wrap and chips to line the inside of your moving box.

Foam Laminated Roll: 1/8″ x 12″ x 40′
Bag Foam Chips
Furniture and Mattress Covers
If you plan on storing a mattress, box spring, or essential furniture in your storage unit, mattress and furniture covers are great for keeping your items protected from dust, dampness, and other troublesome elements. These covers fit a wide range of different-sized items, so you can keep everything looking brand new throughout their stay.
Furniture Blanket (72 x 80″)
Protects your furniture from dirt, dust, and water damage throughout the storage stay.
Chair Cover (10/box) (72 x 60")
Protects chairs from dirt, dust, and water during move-in and storage.
Sofa Cover (10/box) (136 x 60")
Protects sofas from dirt, dust, and water during move-in and storage.
Single Mattress Bag (10/box) (39 x 9 x 96")
Double Mattress Bag (10/box) (54 x 9 x 88")
Queen Mattress Bag (5/box) (60 x 11 x 94")
King Mattress Bag (5/box) (70 x 19 x 96")
Protects mattress and pillow toppers against dirt, dust, and water.
Securing boxes with packing tape is easier than ever with our assortment of tape guns and dispensers. Constructing, sealing, and preserving your items only takes a matter of minutes! Each one of our tape dispensers is designed to help streamline your move.
Clear Packing Tape (48mm x 100m) (36/case)
Tape Gun / 2 rolls tape (9/case)
Tape Dispenser (standard)
Nothing keeps your items secure like a storage lock. Every storage lock is designed differently, but each is focused on keeping your belongings safe. If you're unsure which lock style is best for your unit and storage needs, ask one of our team members for assistance.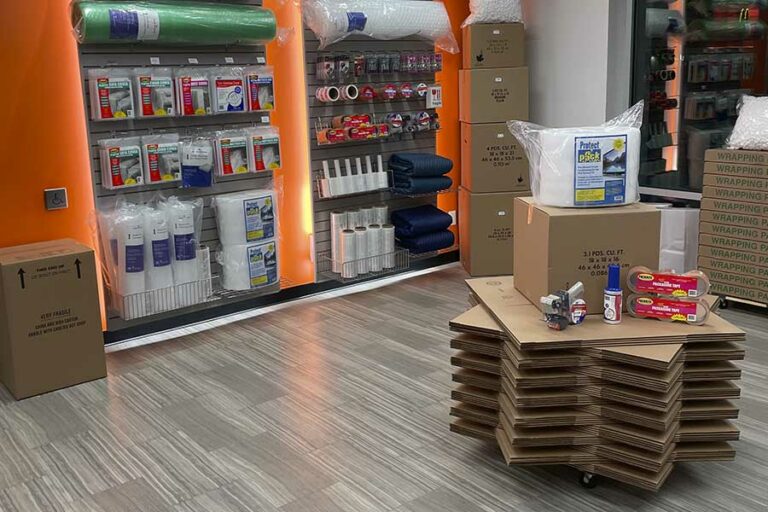 This high-quality lock keeps your items protected from theft and is durable enough to last you for years to come.

80 MM Disc Stainless Steel Lock
For even more security, our disc stainless steel locks are the choice for you. Their integrity is ideal for long-term storage and can fit a wide range of units.
For certain storage units, our cylinder locks are the most compatible with their needs. Like traditional storage locks, our cylinder lock is incredibly durable, so you'll have peace of mind throughout your storage experience.
Besides moving boxes, packing paper, and tape, plenty of other moving supplies help make your move a seamless experience. From box labels, pens, and even moving gloves, all of these items are essential to streamlining your move. You can stay organized and lift heavy items and other objects with ease.
Fragile Labels (12/pack)
Moving Labels
Permanent Marker (2/pack)
Our moving gloves are designed to help you grip and hold onto objects. Some styles come in disposable packs, or you can purchase a specialized style for maximum hold and comfort.
Sure-Grip Gloves
Disposable Gloves 3 mil – Sm
Disposable Gloves 3 mil – Med
Disposable Gloves 3 mil – Lg
Ratchet Tie-Downs and Bungee Cords
Provide additional support during moving transportation, securing your items safely on the moving truck.
Forearm Forklift and Shoulder Dollies
For easy item transportation during move-in, these straps give you the ability to lift and maneuver difficult items like mattresses and boxsprings with ease.
Felt disks that make moving and transporting furniture easy, without risk of scratching or damaging floors.
Handtrucks are designed to make carrying large objects a breeze, thanks to their wheels and smooth transportation.
Standard 6.0 Hand Truck
Steel Cart 30 x 48 x 1.5″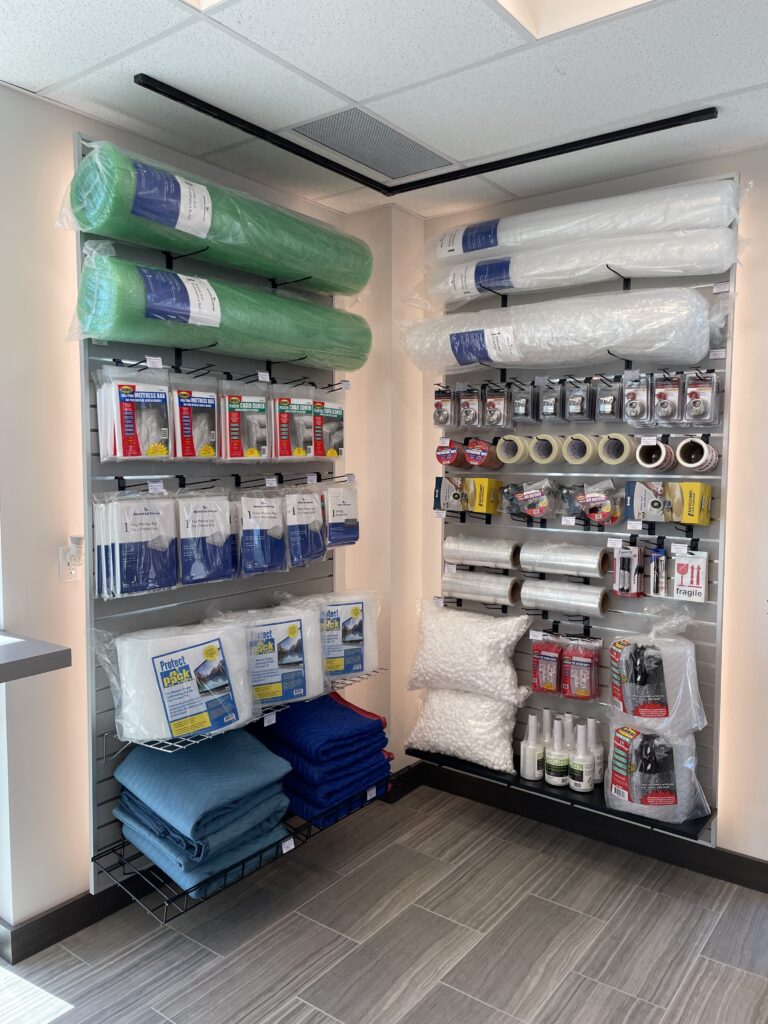 Helpful Self Storage Packing and Moving Tips
When you choose to store your stuff at a Bluebird facility, our team will do everything we can to help your moving and storage experience go smoothly. However, when it comes to packing your belongings, there are a few things to keep in mind before you seal your boxes. If this is your first time storing your stuff in a unit, review the following tips to ensure an easy, enjoyable moving experience.
Use high-quality moving boxes or containers that can be secured tightly – older boxes are less secure and likely have been worn or damaged.
Tape the bottom and sides of your moving boxes to prevent the contents from spilling out.

When packing a moving box, it should be filled to capacity to avoid collapse and tipping when stacking. You can always fill the tops with towels, blankets, or other soft items that can easily fill holes in your boxes.
Use smaller boxes for heavier items like books or china so that they are easier to lift.

Place a fabric softener sheet in boxes with bedding and towels, so they stay fresh in your storage unit.
Use bubble wrap to protect your delicate items – it's more durable than traditional packing paper!
Secure any moving parts and remove all detachable cables and wires from your T.V., stereo, VCR, DVD, and computer. Color code or label wiring for easier reinstallation. Tape off tie cables and wires for easy packing and less risk of tangles
Bubblewrap your electrical items for additional security and mark the box as fragile.
If you plan on storing a dining table, remove the legs before storing. Tape bubble wrap or packing paper to the legs of your table and chairs to protect them from damage.
Cover items such as mattresses, sofas, and chairs with dust-proof covers, so they stay clean throughout their stay.
Wrap pictures and mirrors individually in bubble wrap or picture boxes and mark them as fragile. Stack on end.
Pack lamps and lampshades in individual boxes so they can be transported with care. Use clean paper, bubble wrap, or towels for padding.
Pack books flat to protect their spines and help with weight distribution.
Each time you pack a box, use your marker to label contents and where they are to be unloaded.
Wondering what size storage unit is right for your needs? Review our Storage Unit Size Guide for a closer look at the different types of Bluebird storage units!